Hello fans! As always, it is that time of the month as TNA presents their annually hyped HARDCORE JUSTICE PPV.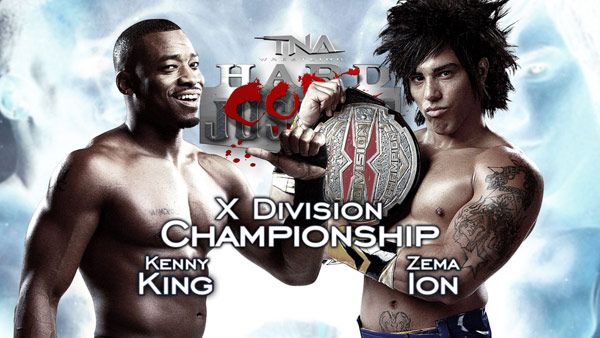 X-Division Title Match
Kenny King vs. Zema Ion (C)
Leaving ROH has seemed to prove effective for Kenny King for the time being. On the Impact before the last one, he was essentially the main focus in the opening segment and is getting a title shot at the first PPV after returning. I am a fan of both of these guys and I am curious to see how they do on PPV. The match they had on Impact a couple weeks back was pretty fun for a television match. I know some people view Kenny as hit and miss, but so far in TNA, he has shown more spirit than I have seen out of him in quite some time. Zema Ion has been one of my favorites on the independent scene for a good while and I feel he has improved a lot in the ring and as a character. The match should be good though, even if there is no doubt that Zema is retaining.
JP's Pick: Zema Ion retains.
Ben's Pick: These two had surprising good chemistry in their short TV match a few weeks ago, so I am looking forward to this one quite a bit. Safe to say I have a better chance of winning this match than Kenny King does. I am not looking forward to the inevitable Sorensen/Ion program. Zema Ion retains.

Kid Kash & Gunner vs. Chavo Guerrero & Hernandez
It appears TNA finally remembered they have a tag division to fill as we are getting two random pairings, one being the umpteenth chapter in LAX. Kid Kash and Gunner worked a couple dark matches for TNA as a team and seemed to show some chemistry at least and I imagine Chavo/Hernandez will mesh. The match should be OK, but I don't exactly have high hopes for it.
JP's Pick: Chavo & Hernandez
Ben's Pick: This is a real match. I'm not sure why. I do at least like the Guerrero/Hernandez pairing, and Hernandez/Kash did some interesting stuff in their four minute match from Slammiversary. Guerrero & Hernandez take it in Guererro's IMPACT Wrestling debut!

Knockout's Title Match
Madison Rayne vs. Brooke Tessmacher (C)
While I feel that Brooke Tessmacher has improved over the last year, especially when you consider that essentially started wrestling a year ago, I have no hope for this match. Even without the Earl Hebner stuff, which is comical in a not-funny way, Madison just has shown little promise in the ring over the past couple years. She is certainly an improvement over Velvet, but that is not saying much. I'd be shocked if they did not go the predictable route of Earl screwing Brooke to then end up screwing Madison. I'd be more shocked if this match was good.
JP's Pick: Madison Rayne to win the Knockout's Title.
Ben's Pick: Brooke Tessmacher. Less crappy tattoos gives her the nod.

BOUND FOR GLORY SERIES MATCH: Falls Count Anywhere – Worth 20 Points
Mr. Anderson vs. Rob Van Dam vs. The Pope vs. Magnus
The moment that I saw this match, the first thing that I said was "Poor Magnus." He's in the ring with 3-guys that come off as unmotivated to me as it gets in TNA. I feel like the gimmick may completely redeem the match. At least it should redeem it enough to the point of making it solid. I am just interested to see how this match goes because it is truly quite random. I don't see Anderson or Pope taking this. Van Dam might have an outside shot, but I feel Magnus will take it just because he is by far the freshest act of the four and could provide some intrigue if he makes it to the final four of the BFG Series.
JP's Pick: Magnus
Ben's Pick: The shit meter is reading a 20 out of 10 on this one. You replace Magnus with Robbie E and you have potentially one of the most unappealing pro wrestling matches of 2012, or perhaps ever. The good news is this is a falls count anywhere match, thus they don't ever have to actually wrestle in the ring! I mean, I'm sure they will, but for the sake of the next several hours before this PPV, I'll imagine otherwise. No idea what the standings are, so it's a toss up between RVD, Anderson, and Magnus. I believe the last time Pope won a match he was wrestling on Tuesday nights. R-V-D FTW.

BOUND FOR GLORY SERIES MATCH: Tables Match – Worth 20 Points
Jeff Hardy vs. James Storm vs. Bully Ray vs. Robbie E
Depending on the rules of this match, it should be fun. If it's an elimination-style tables match, I'll have more anticipation than I would for a "first person to put someone through the table wins" style of match. Three of these four work well in this environment while Robbie E is a bit of a wildcard, but I feel he can provide something humorous to the match at least. I feel like this match can also see some Aces & 8′s involvement as well due to the Storm stuff. I'd say Storm is the safe bet to win due to that factor.
JP's Pick: James Storm
Ben's Pick: James Storm.

BOUND FOR GLORY SERIES MATCH: Ladder Match – Worth 20 Points
AJ Styles vs. Kurt Angle vs. Christopher Daniels vs. Samoa Joe
I was just talking with a friend of mine not too long ago about four-way matches that would have potential to be awesome and this was actually one of the first that came to mind. You have "The Unbreakable Three" grouped with one of the best wrestlers in the world in Kurt Angle. However, to make that even more eye-opening, this has the gimmick of being a Ladder Match. I somewhat feel like the gimmick could almost hold this match back just because besides King of the Mountains and a few random ladder matches, it's not like this is a gimmick that truly suits any of the four guys. I feel like with these four guys though, they will absolutely do everything they can to make the gimmick work. There isn't a bad pairing in the match at all and I have no doubt that out of the three BFG Series matches, this will get the most time to be the fantastic match that it can be. As far as a winner is concerned, a case can be argued for AJ to win just because he is lagging in the BFG series, but Joe seems to be a frontrunner to be one of the top two along with James Storm so I feel he is the safer pick. This is my most anticipated match of the night.
It also has to be mentioned that two PPVs in a row, they have kept the Claire Lynch stuff off of the shows and have kept it strictly for Impact. I would not entirely rule out the possibility of dodging three bullets, but I'm hoping creative knows the kind of match they have in their hands here and continues to keep it only for TV if they really have to keep the storyline going.
JP's Pick: Samoa Joe
Ben's Pick: O_O, who booked this match? This may be more mind blowing than PWG's Threemendous III ladder match, on paper. TNA's recent booking trends makes me feel confident this won't get ruined by outside means and should deliver greatly. I assume Daniels & Styles will cancel each other out of this one in some capacity, leaving my pick to Joe or Angle. 2012 booking dictates 50/50, so considering last month's match Angle should win, but I'm going to give them the benefit of the doubt and say Joe's momentum continues, who I believe is currently #1 on the BFG leaderboard. Joe! Joe! Joe!

World Heavyweight Title Match
Bobby Roode vs. Austin Aries (C)
Last month, these two put on what I consider to be my TNA Match of the Year as well as one of my favorite matches of 2012. While I am not sure of if they can match that quality again, I have no doubt that this will still be a great match. The issues here are that I feel the feud has sort of sizzled out due to the fact that despite both Aries and Roode being on top of their games as characters, the two of them feuding has felt secondary due to Aces & 8′s being the bigger picture.
This is truly a tough match to call to me for a few reasons. 1) TNA wants to do James Storm vs. Bobby Roode at Bound For Glory. However, I personally do not feel that that match needs the title. Beyond that, I feel that seeing a match between those two has also lost a lot of the appeal over the past few months. 2) Taking the belt off of Aries here would really harm TNA in a number of ways. To me, Aries is without a doubt the best act in the company right now and is one of the best wrestlers in the world (and can be argued to be the best of the best). The Impact Zone crowd has truly taken to him as I feel he gets much stronger reception than James Storm. His title win was one of the better moments that I can recall in TNA's 10-year history and taking the title off of him one month later would hinder what I felt was a truly fantastic moment.
The fact that they added that there will be no re-match between these two following this match makes it even more intriguing to me. I feel that there is more to be had with Roode losing more control of his usually calm self from having been "fluked" twice in a row. I even had given thought to the idea of Aries/Roode going to a draw, thus allowing one more match to happen at No Surrender, but I doubt they go that route. Arguably, what they would do with Aries if he were to lose is make him the 2012 version of AJ Styles of the past and have him be the face of TNA going after the Ace's & 8′s, which I am not entirely against either. I know that my preference here is for Aries to retain and then we could potentially get Joe/Aries at Bound For Glory. (Truthfully, the match that I want most is Aries/Angle but I feel we will have to wait for that one a bit.) I'm going to pick Aries which could ultimately come back to bite me as it truly is highly possible that the title ends up back on Roode here. I just hope that the match is great once again more than anything, which I have no doubt that it will be. After he retains, I would say that we could have an Ace's & 8′s run-in to close the show.
JP's Pick: Austin Aries to retain
Ben's Pick: Ok, I think they left themselves a lot of room for a rematch, so they could easily top the first match. The problem is, the crowd won't be nearly invested into this one as they were last month. I hope I'm wrong. I expect another great match at the least, potentially fantastic and topping last months, again, depending on the crowd's response. I can't express enough how much I want Aries to retain, and how little I want to see Roode/Storm main event BFG for the title. It can't be stated enough how vital, at least in my opinion, that Austin Aries is to TNA's momentum, and my person interest in the product. They're making a huge mistake if Aries gets lost in the shuffle of some random multiman tag against this mystery stable leading into BFG. They left me with several things to consider in terms of a prediction, especially with the added stipulation from last Thursday, even though I do feel Roode is a solid lock, but again I'm going to go with what I want and hope TNA realizes they have something special here. Austin Aries retains.
TO BUY OR NOT
Truthfully, out of the three big companies this month (WWE/TNA/ROH), I have more anticipation for this show than I do for Summerslam/had for Boiling Point (which just took place last night and I have heard a ton of mixed things.) With that in mind, I feel that there are two matches here guaranteed to be great and the remainder of the card, Tessmacher/Rayne aside, should range from decent – good. I am really intrigued to see what they do with the main event, so if you have nothing going on in the evening, I wouldn't call you stupid if you ordered. TNA has had an overall good track record with PPVs since May and I imagine this one can fall under that category as well. If you have $35 that you do not mind dropping, why not?
Anticipation Chart:
1) AJ Styles/Kurt Angle/Christopher Daniels/Samoa Joe
2) Austin Aries/Bobby Roode
3) Kenny King/Zema Ion
4) James Storm/Bully Ray/Jeff Hardy/Robbie E
5) Mr. Anderson/The Pope/Rob Van Dam/Magnus
6) Kid Kash & Gunner/Chavo Guerrero & Hernandez
7) Tessmacher/Madison Rayne
Ben: I can never condone $35 for a pro wrestling PPV in 2012, but if the last three months worth of PPV is any indication, I can't say you wouldn't be getting a good wrestling show. You have two guaranteed locks for exceptional matches. It's not often you can say that. So, go for it!